How can I claim my rebate?
How do I check on the status of my rebate?
Checking the status of your rebate is easy. You can check the status of your rebates by simply clicking on Track a Rebate and entering your Tracking number or email address
Where is the UPC Barcode?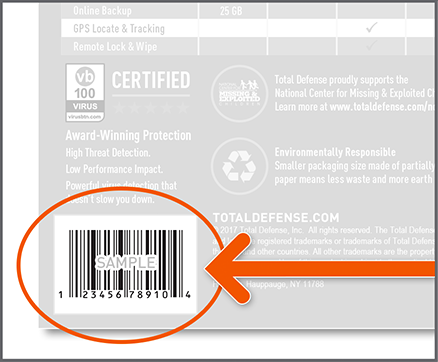 The location of your Original UPC Barcode is on back of the product package you purchased from the retailer.
Help, I lost my receipt! Now how do I get my rebate?
Most stores can reprint your receipt, especially if you paid with a credit card and know the exact date of your purchase.
I forgot to send in for my rebate and now it has expired. Will I be able to get my rebate?
Promotions such as rebates are planned for very specific timeframes. If the submission period has passed for your rebate, unfortunately you will not qualify.
I purchased the product that I am submitting a rebate for online and did not receive a receipt. Can I still receive a rebate?
Qualifying purchases made online should have been accompanied by a packing slip or invoice. For these purchases, the packing slip or invoice may be used as the receipt.
I bought more than one of the same product that a rebate was offered on. Can I submit for more than one rebate?
Many rebates have a limit on the number of claims that can be submitted on a single promotion. Please review the details on your rebate form or website to find out the specific rules for the promotion you are applying for.
What are my payment choices?
If you qualify for a rebate payment, you will receive your rebate payment in the form of a Check.
Does my rebate check ever expire?
Yes. Checks are void if not cashed within 90 days of issuance and cannot be reissued.
How long does it take to get my Rebate Check?
It should take about 4-6 weeks for your Rebate Check to arrive once your claim is approved.
Why am I required to activate my software?
The rebate promotion is for new customers and requires activation and installation of your software to be eligible.
I don't have a printer to print my rebate.
Try your local library or community center – if you have a portable device (phone, tablet, laptop) you should be able to use the library wireless to print from your device to the library's printers.
Refer to our Rebate Tips for additional rebate information.