Total Defense protects your Android device and data against malicious apps using on-install scanning and on-demand scanning. Follow the directions below to use the Mobile Security Malware Scanner.
Note: Make sure your mobile device is connected to the internet. If your device is not connected to the internet, the scan process will not start.
On-install scanning
Whenever you install an app, Total Defense Mobile Security automatically scans it using in-the-cloud technology. The same scanning process starts each time the installed apps are updated. If the app is found to be malicious, an alert will appear prompting you to uninstall it. Tap Uninstall to go to that app's uninstall screen.
On-demand scanning
Whenever you want to make sure that the apps installed on your device are safe to use, you can initiate an on-demand scan.
To start an On-demand scan:
Tap Malware Scanner on the bottom navigation bar.
Tap START SCAN.
Note: Additional permissions are required on Android 6 for the Malware Scanner feature. After tapping START SCAN, select Allow for the following:
Allow Antivirus to make and manage phone calls?
Allow Antivirus to access photos, media, and files on your device?
The scan progress is displayed and you can stop the process at any time.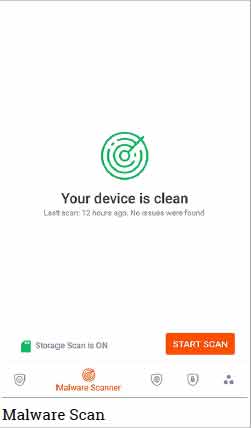 By default, Total Defense Mobile Security will scan your device's internal storage, including any mounted SD card. This way, any dangerous apps that might be on the card can be detected before they can cause harm.
To disable the Scan Storage setting:
Tap More on the bottom navigation bar.
Tap Settings.
Disable the Scan Storage switch in the Malware Scanner area.
If any malicious apps are detected, information about them will be displayed and you can remove them by tapping UNINSTALL.
The Malware Scanner card displays the state of your device. When your device is safe, the card is green. When the device requires a scan, or there is any action that requires your input, the card will turn red.