To claim your rebate:
and click the "Claim a Rebate" button

2. Enter your Offer Code and Activation Code
The offer code is a 5 digit code found on the upper right side of the rebate flyer.
The product activation code is a 20 digit code found on the inside of the retail software packaging.

3. Enter your information
Enter the required Rebate registration information and select the date of purchase
Click the "Claim Rebate" button when complete.

4. Send all required documents
Print out your Rebate Submission Confirmation


Mail all required proof of purchase documents to the address on the bottom left of your form

Copy of your sales Receipt/Invoice
Original UPC Barcode on the back of the Total Defense product package (not a copy)
The printout of the Rebate Submission Confirmation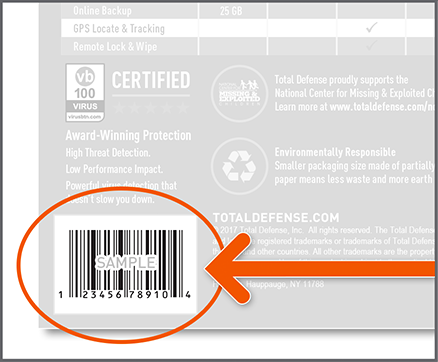 Location of your Original UPC Barcode on back of product package
Please allow 4-6 weeks to receive your rebate check in the mail.